Traditional home grooming tools cause a lot of mess and hair in the home. But our grooming kit with vacuum function collects 99% of pet hair into a vacuum canister while trimming and brushing the hair, which can keep your house clean, and no more tangled hair or piles of hair scattered around. the whole house.
Brush and bond with your pet. Your pet will learn that it is okay to allow his body and feet to be handled; It's very relaxing and satisfying to spend more time with your dog while helping him look and feel his best.
The hair you collect goes straight to the bin, no more mess at home, no mess, no fuss! With the ease of use, there is no more tangled hair or piles of hair scattered all over the house.
Trimming hair at its best
The trimming tool will easily remove excess hair that might be making them uncomfortable in high temperatures. And of course, the vacuum cleans as you go, with nothing to clean up later.
Meet different lengths and shapes of hair, you need
4 guide combs for more precise trimming 6mm, 12mm, 18mm, 24mm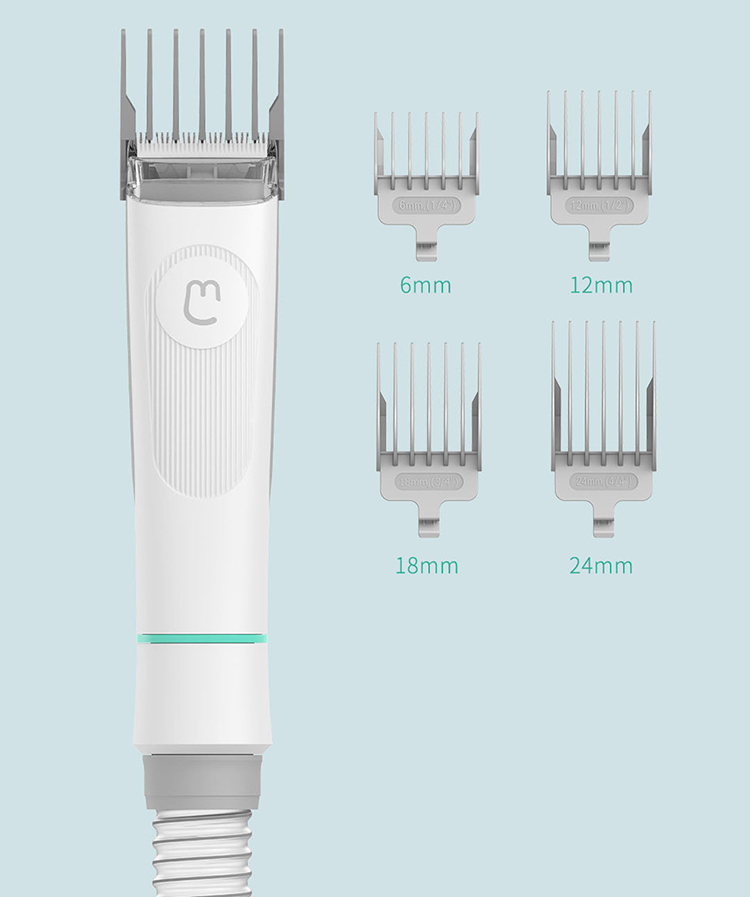 Dog clippers with low noise design to help the pet feel comfortable and not afraid of haircut. We suggest brushing your pet with our brush before trimming pet hair, treating your pet with small snacks to prevent your pet from being nervous due to the noise of the vacuum cleaner, which ultimately makes the brushing experience more enjoyable. even nicer.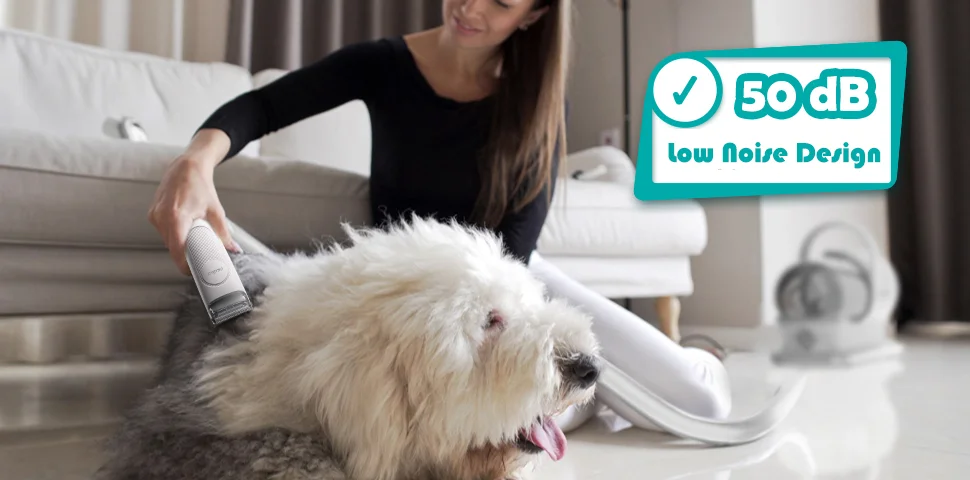 Captures 99% of loose hair
With its super strong suction up to 9000Pa, it can easily remove 99% of biodebris including dust, mites, hair, fur, allergens and more, collects 99% of pet hair in one vacuum container while trimming and brushing hair.
By shedding, it draws out the natural oils produced by the dog's skin and coat, preventing the formation of painful knots and hot spots.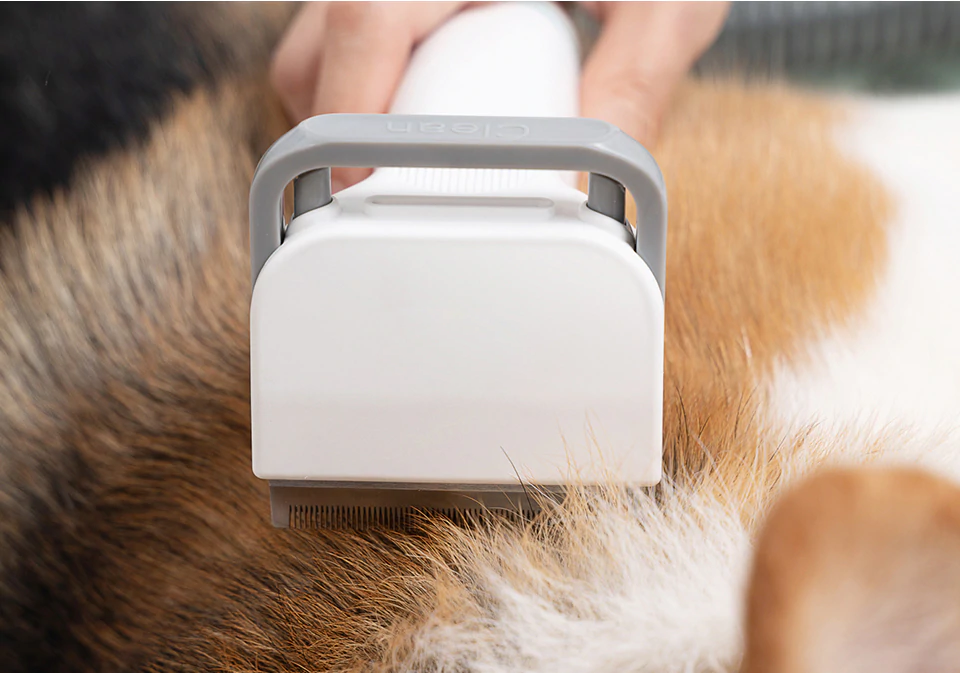 With carpets and hot spots now fixed, you'll know your pet is more comfortable and your family is free of pet hair.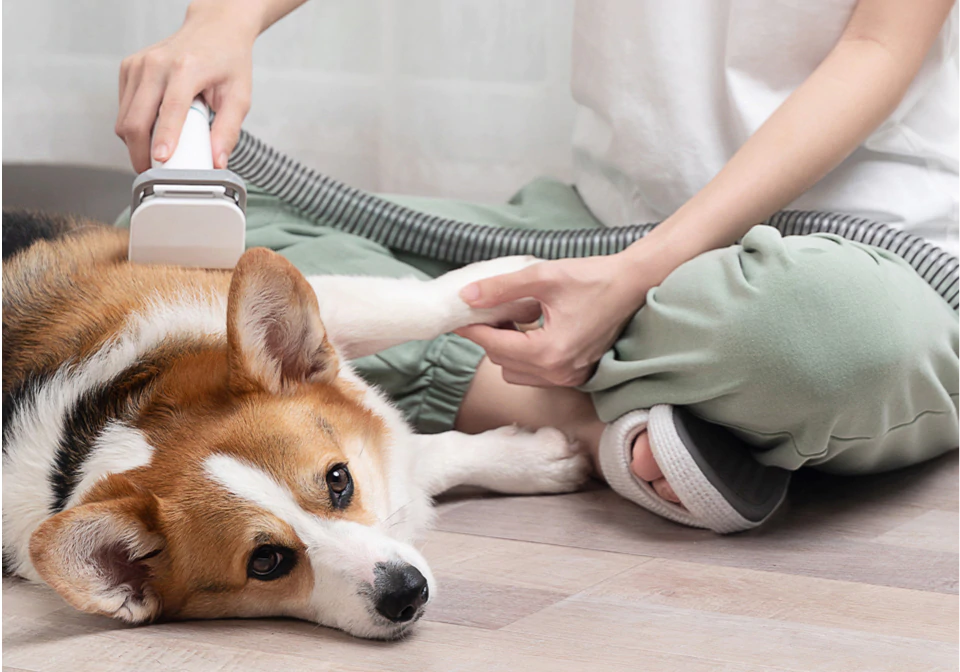 Easily removes heavy undercoat.
The brush itself has fine metal bristles that are designed to brush away all loose hair to greatly calm your pet. It works particularly well on medium to long-haired dogs and cats.
The button on the brush is a wide, easy-to-push bar, making it easy to push and release hair from the brush.
Coming home after a nice walk? Take a moment to clean your hands before you make a mess at home.
If you have a pet that is active or spends a lot of time on your sofa, you can tidy up at any time with the nozzle that works simultaneously as a vacuum cleaner.
List of products
vacuum cleaner *1
grooming brush *1
Cepillo DeShedding * 1
electric slicer * 1
Nozzle head * 1
cleaning brush * 1
Adjustable recorte penalty (6mm/12mm/18mm/24mm)*1